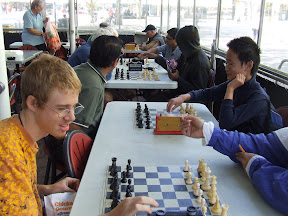 Despite the tenor of the posts (both here and elsewhere) concerning the ACT Chess Association Annual General Meeting, the make up of the ACTCA doesn't really effect chess in Canberra that much. The main reason is that Canberra has a group of volunteers who are willing to work hard and organise events, no matter which way the politics goes.
Indeed the last few years has seen a divergence between what I would call 'hard workers' and the ACTCA executive, with the notable exceptions of Paul Dunn (Doeberl Cup) and Shun Ikeda (ANU Open), who held executive positions.
Major ACT events such as the Doeberl Cup, ANU Open, Vikings Weekender, Street Chess, Australian Open, and Australian Junior Championships have been organised without the ACTCA's assistance. This is normally by organisers choice, although in the rare instance of the ACTCA being asked to organise an event (as the ACF did re the 2006-07 Australian Open), the ACTCA has stated it is unable to.
But chess in Canberra still happens, as you can see in the picture above. People like Shervin Rafizadeh still run Street Chess every Saturday morning in City Walk, the ANU Open still gets held every July, and the ANU Chess Club still provides a well lit, quiet and friendly place to play chess every Wednesday night.
And while it would be nice that the people in Canberra who actually organise these activities get to use their skills in ACT chess administration, it's not the end of the world if they don't.